Caller ID Reputation®
Take Control of Your Calls' Reputation
Instantly identify flagged caller IDs and decrease flags by up to 95% your first month. Keep your agents on the phone with increased connection rates by monitoring your phone number reputation across all major carriers and call blocking apps.
Phone number reputation monitoring
Optimize for the most important step in the customer journey: the phone call
More than ever, a good phone number reputation is critical for success. Get real-time visibility and control across the networks who have the power to say what your customers see when you call.
Caller ID Reputation provides the most comprehensive view of your caller ID scores across all carriers, industry data sources, and through different mobile operating systems. See exactly how you are presented to your clients, at any time.
Who depends on us
Industries
Caller ID Reputation handles the monitoring so you can focus on your connections. With simplified operations, you can easily remediate your lines before it becomes detrimental for your business.
all major carriers and call blocking apps
Prevent being flagged as spam or scam
Stay on top of your phone number's reputation in real-time across all major carriers and call blocking apps. Our simplified dashboard allows you to conveniently monitor and manage all your business lines at once. With Caller ID Reputation, we'll keep your calls in good standing, matching your brand's reputation.
While some monitoring solutions are costly, complex, and time-consuming, Caller ID Reputation provides you with a user-friendly and comprehensive monitoring tool that won't waste your time or budget.
Keep your numbers safe and stay dialing
Call monitoring and management
When your phone number is flagged by one aggregator, it starts affecting the rest of them. Your calls could be marked as spam, or worst— you won't be able to reach your customers.
Our service monitors your number from the top leading source aggregators to keep your listings fresh and accurate. Caller ID Reputation gives you insights into which services are impacting your phone number, allowing you to resolve issues directly with the source.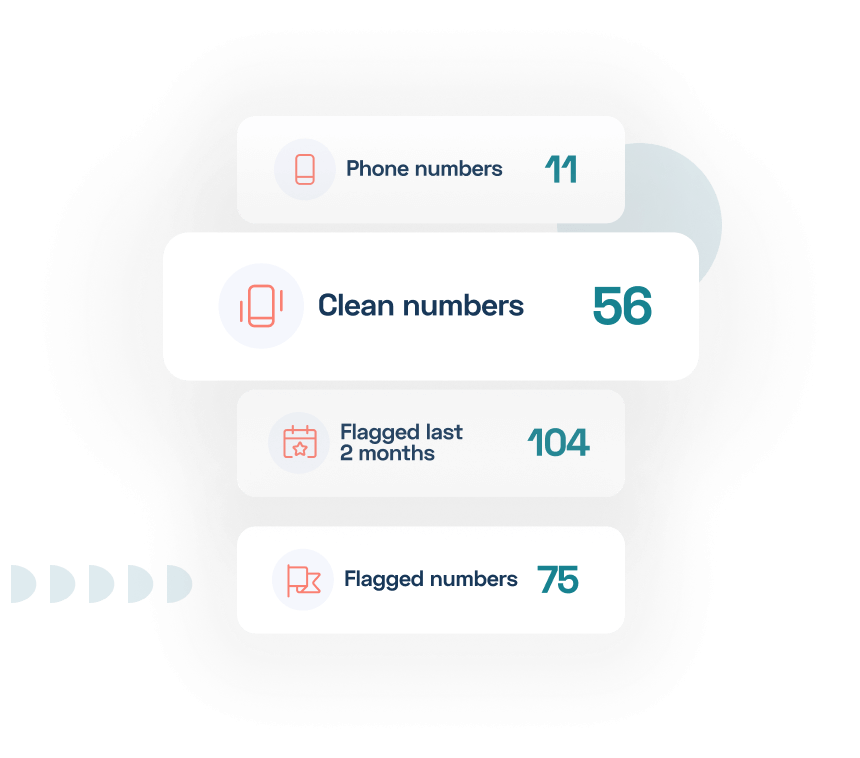 Brand integrity
Protect your reputation
Caller ID Reputation identifies the data sources that have flagged your numbers. Receive notifications in real-time and remediate flagged numbers immediately. Alerts and detailed dashboards give you continuous visibility into your phone number reputation.
Testimonials
Hear what others have to
say about us.
Excellent way to manage Caller ID and your reputation
"Caller ID Reputation has done what they have promised."
Enterprise
The best service out there!
"This is the best caller ID service because they do not charge any hidden fees! It actually works"
Senior Account Executive
Call performance platform
Caller ID Reputation
Allows your company to...
Check for flags across all major call blocking apps.
Upload large lists of phone numbers to check ratings.
Receive notifications in real time about flags.
From the blog
Stay on top of it